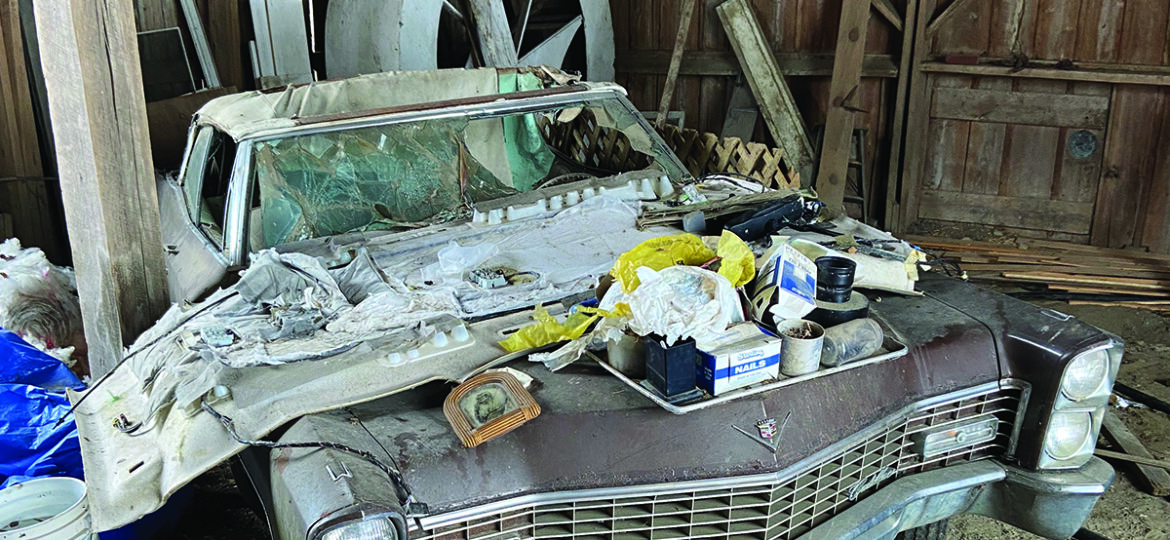 Our Burbs-to-Barns Journey Begins.
We weren't looking for a hundred acres, just enough land so we can chase our passions on a grander scale than the Home-Owner's Association (HOA) will tolerate. Our kids are both in college and out of the house, so we have no use for schools, soccer goals, basketball nets and scores of kids to play with. We're very grateful for the job the house did for our family, but it's time to let someone else hire her and put her to work helping them raise their children.
If you've skimmed this site, you already know my passion for redeeming old stuff. For 17 years I made do hiding my projects behind a perfectly painted garage door and trying to keep the noise down, not to disturb any of the neighborhood babies trying to sleep. I restricted my projects to small ones that could be hidden away in the garage or in the basement. The HOA doesn't like projects parked in the driveway.
My wife Carrie is a Master Gardener. She prefers gardens over finely tuned squares of weedless grass. She's happiest with dirt under her fingernails. She's made do with a sample of her favorite flowers, cultivated in our side garden, but her dreams were much larger scale—a flower farm.
For me, a farm means freedom—to do almost anything I can imagine—and make as much noise as I want, and hear none of the neighbor's. And, believe it or not, farming's in my blood. While my wife's family tree is full of people doing fancy things, mine is full of farmers. Even living in the middle of Detroit, my grandfather cultivated his tiny yard to produce beautiful flowers and abundant fruit trees. I did the same at our fancy corner lot, hiding raised beds of strawberries and vegetables in inconspicuous places and keeping them neat and tidy.
The new thing is my interest in animals. As the toe headed asthmatic kid, I never had furry friends. Fish, lizards, snakes and frogs were my friends … until Charlie came. He's our 50 lb Standard Poodle. We've had him for six years now and he's never made me wheeze or sneeze. He's a strange, endearingly creature like the rest of us who live here. Somehow, he's erased the memories of all the times I was rushed to the ER because of dogs and cats. I like the allergenic ones less, but I pretty much like dogs now.
My interest in animals got stronger when I was in treatment for cancer. For me, the radiation and injections put me on the couch most days at around 3pm. As a kid, when I was sick, I would watch shows like Green Acres, Petticoat Junction, Gilligan's Island, The Brady Bunch, etc.—whatever channel 20 offered up to take my mind off being sick. For cancer couchtime entertainment I found the Incredible Dr. Pol. I had never watched it before, but for some reason it helped. A big part of it is Dr. Pol's lack of intimidation, no matter what organ he finds hanging out the rear end of an animal. After a quick "this is bad," that kid strips down and goes after it, armpits deep. Even though he's from the Netherlands, he has that Detroit grit that's so easy to relate to. So … believe it or not, I really look forward to wrenching on some weird farm animals after we find, and fix our farm.
So here's where we're at … Almost a month ago, we put an offer on a farm in Armada, Michigan. We LOVE it, but it's pretty far gone in almost every way possible. The house is a whitewashed tomb. It's beautiful on the outside, but needs a complete gutting on the inside to save it. The grounds are overgrown and filled with a dozen dumpsters of miscellaneous garbage. And, the two barns are adorned with more piles of garbage and the detritus of decaying animals and automobiles. In spite of it all, we love the idea of redeeming it and making it beautiful again. The problem is … there are two issues that might derail the whole deal. So … I'll save sharing pictures until if, or when, we get to closing. If that happens, this blog will be filled with tips and tricks for restoring an old farmhouse, barns and farm land. Should be a cool story, so stay tuned.